Seeking another use for his 247 acre ranch in 1989, Dick Murphy, an American Airlines pilot, embarked on a new mission … building his own golf course.
Why not build a golf course?
By 1988, Dick Murphy, then an American Airlines Captain, decided it was time to get out of the cattle business. He believed the 1986 Tax Law, which changed the depreciation allowances, made it difficult for the small cattle rancher to make any money, and do it the right way.
"There was no way to make money at it, unless you were really big, or you really didn't care," said Murphy.
At the time, Murphy and his wife, Kim, lived on their 247 acre ranch near Muenster, TX, and also owned a 330 acre ranch west of there. He made the decision to shut down his Beefmaster cattle operation, and was looking for another way to use his scenic wooded land in the hill country.
Murphy, an avid golfer, had already built driving range on his land, and one day after hitting balls, he went home and told Kim, "I'm going to build a golf course here."
Why not? The surrounding area was void of quality public courses, and golf was growing in popularity.
Turtle Hill Elevated View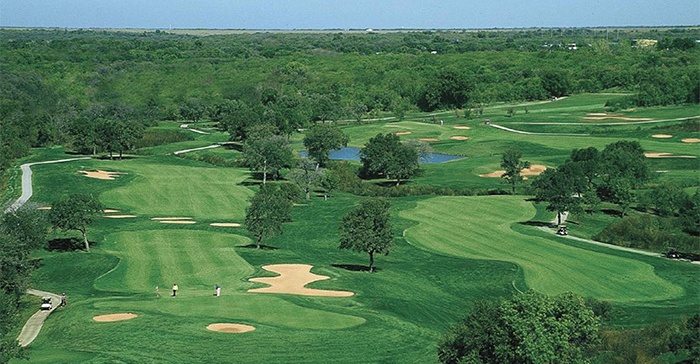 The Mission Begins
Soon, Murphy envisioned a nine-hole course on his ranch, and starts taking the necessary steps to get out of the cattle business. He then spent two years laying out the course, "working sun-up to sun-down" on the days he was not flying.
Did anyone think he was crazy?
"Neighbors, friends, family, my accountant. He does the books for two other courses, and he told me, 'Dick don't do it!'"
But Murphy was not deterred, and became intent on building his own golf course. Recognizing his total lack of experience in course design, construction, and maintenance, Murphy attended seminars on turf grass and acquired books.
"Everything you need to know is already in print somewhere," says Murphy.
While in the cattle business, he realized the dangers of "ancestor worship," which benefited him in developing a golf course. "There are ranchers around here who are doing things the same way they were in the 1930's. I had an advantage, I didn't have to unlearn."
He also focused on what would work best on his particular piece of land, which allowed him to become more knowledgeable in a short period of time, adding "I'm not interested in how to grow grass in Ohio."
"I decided early on to build pure sand greens." Seeking to take advantage of the latest technological advances, Murphy chose to use a new bent grass that had only been on the market for two years, SR-1020.
After laying out the course, Murphy contacted golf course architects Finger, Dye and Spann, of Houston, who wanted to know if he wanted a signature course.
"I could not afford a signature course, that would cost hundreds of thousands of dollars," said Murphy. "Many country clubs have to have a signature course for credibility, but it doesn't mean that its any better than someone else's." He likens this to the Wizard of Oz. "The Lion was brave, but he needed a statement that said he was a Brave Lion."
Seeking help, Murphy then brought in Mike Otto, who had previously worked on 17 courses. Otto only made two stakes changes. He also provided Murphy a book on Golf Federation Guidelines, "which tells you everything you need to know to build a golf course, from how wide to make the fairways, to how big to build the parking lot."
In 1991, Murphy decided it was a go. Otto did the dozer work for the front nine in 10 days. Murphy then spent four to five months cleaning it up. Amazingly, the actual construction of the front nine took two years, with only one other full-time employee.
The front nine at Turtle Hill opened in July, 1993. The back nine was completed in October, 1995.
The Major Obstacle & Expanding the Dream
Financing the golf course was the biggest problem Murphy faced. He quickly realized his original estimate of building a 9-hole course for $100,000 was way off, even doing all the labor himself.
Ultimately, the costs were ten times his original estimate. While costs were rising, Murphy's dream course was getting ready to double in size, as he felt an additional nine holes were necessary.
"Golfers have a natural resistance to a nine hole golf course, and its very difficult to make any money. I knew the local area could not support the course, and we had to draw on the Dallas-Ft. Worth metroplex. They would drive up here for eighteen holes, but not for nine," said Murphy.
"We knew there were two ways to get people to come here from DFW. Either make it cheap enough that they had to come, or build a quality place," Murphy continued. "We choose to go with quality, at a reasonable price."
To get the standard he was looking for, he didn't worry about the rising costs, but instead focused on costs control, or how to manage the costs effectively. "You can build a course in a year," said Murphy. To avoid overextending himself, he spread the work out over two years, and did most of it himself. "By the time the second nine opened, I estimated I had spent 15,000 hours building the course."
Seeking additional cash, Murphy was unable to find any interested investors. "The banks laughed at me." Intent on completing his project, the Murphys sold their cattle, the other ranch, and his airplane. They used their retirement savings, and borrowed whenever they could. "One month, we decided we really didn't need this truck, so we sold it."
Even with the rising costs, "everyone got paid on time, all the time. This pay as you go is paying big dividends now, as we don't have to go to the bank each month to pay off a loan."
Murphy developed creative solutions to keep the standards he was looking for, while keeping costs minimal.
He found the sand he was looking for in a quarry six miles down the road from his course. Murphy contacted the lab at A&M to learn how they tested sand for quality, and then personally tested every one of the nearly 300 truckloads of sand himself. He estimates the costs of using the quarry to be $16,500 versus $110,000 if he had used a commercial hauler.
Murphy installed his own irrigation system and rebuilt a pump station for about $80,000, a savings of about $160,000 if he had not done it himself.
"You can do a lot with the right equipment," said Murphy.
He also used bartering. Whenever possible, he traded a membership to his course in return for services.
The Pride of Turtle Hill
Throughout the process, Murphy was intent on developing the best greens possible. "I knew right off I wanted pure sand greens."
He then searched for the perfect grass. "I contacted Dr. Bill Knoop at Texas A&M, and informed him of my decision to use pure sand greens. He quickly pronounced me 'dead and buried … it won't work … you're going to fail.'"
"I then asked him to assume I am able to get the grass growing, what would happen." Knoop said, "You'll be light years ahead if you can get the grass started. You will have no organic material, and a lot of down the road problems will be solved."
Murphy then zeroed in on SR 1020 Bent, a grass developed by the University of Arizona, in conjunction with Seed Research. "It was a new grass that had only been on the market for two years when I went with it. It had a lot of promise, now it is the grass."
Murphy put SR 1020 on the greens on his first nine, and a blend called Dominant, which is more resistant, on the back nine. "SR 1020 grows more vertical, is designed for this transitional zone, and is more heat tolerant," said Murphy.
"We did have problems with the seedings as Dr. Kanute predicted, but once it started growing, it kept growing."
"Almost every golf course has to core airify two to three times a year. We have yet to core airify, and I don't think we are going to have to, at least for four to six years down the road."
"We have had a problem when we cut our cups. We can only cut about 4 inches, then we have to physically remove the sand by hand, because the greens are so soft. Our greens feel soft, because they are."
Murphy personally built every green, avoiding the conventional practice of dome shaped greens.
"We do get puddles after a 2″ rain, but our greens are not built dome shaped. Most courses around here are dome shaped greens, the rain runs off, but so does your ball. This doesn't give you a good putting experience," said Murphy.
"Here, every green is different, every green has its own character. We have double-tiered greens, a green with a humpback, one with a total of 1.5% slope over the entire green (the maximum allowed by USGA standards). We have greens that look like they slope in one direction, but actually slope the other."
To combat the problem of heavy rains, Murphy purchased the first of two Water Hogs in the spring of 1996. "You can run the Water Hog over a 1/2 inch of standing water, and it leaves the green dry. You don't have to squeegee, which can really tear up a green." The Colonial and Byron Nelson Tournaments had a couple of Water Hogs on call this spring, but they weren't needed.
The greens at Turtle Hill have been well received, and have won several awards. This summer, Seed Research, in the search for the best 18 greens in North America, declared Turtle Hill as having the best public greens in Texas, and placed them third in the state overall. Joe Cano, former superintendent at Colonial Country Club, says, "they're Tour quality."
"On the Tee" with Dick Murphy
Where did the name Turtle Hill come from?
DM: "Shortly after we moved here, my son and I came back here after dove hunting and we found an ornate North Texas box turtle by my house. We've called it Turtle Hill ever since."
How long have you lived at Turtle Hill?
DM: "We moved to Dallas in 1982, after living in Pennsylvania. We looked for a year before we were able to find this place."
When did you start playing golf?
DM: "I have played off and on since college. At my best, I was a 9 handicap."
Where do you like to play, besides Turtle Hill?
DM: "Courses I enjoy playing include Colonial. I have played it a few times, and I love it. I don't like courses that are conceived to be difficult. There are some courses where the architect is doing his own thing. There are a number of nice courses that I have played in the Dallas/Ft. Worth area. Trophy Club is a good course, Sugartree is a nice golf course. I also enjoyed playing the Dallas Athletic Club."
When did Turtle Hill open and how long did it take to build?
DM: "I started in 1991, and the first nine opened in July of 1993. The second nine was completed in October of 1995."
How many rounds a year does Turtle Hill average?
DM: "When we first started we averaged about 9,000. This year we should do 24,000. I don't ever want to get to the point where we are doing more than 30,000."
From where do most of your players come?
DM: "80% come from Denton, Dallas-Ft. Worth. 12% come from Wichita Falls."
What is the course record?
DM: "We had a Nike player shoot a 64 from the tips."
What plans do you have for Turtle Hill in the future?
DM: "I am planning to build a learning center across the street. It will be a full practice center with indoor/outdoor facilities. It will have target greens, and simulated fairways which will allow you to practice moving the ball. It won't have yardage signs, because golf courses don't have yardage signs. We are looking to add a 9 hole par three course along the outside. It will be anchored by a 24 unit hotel, with tennis courts, swimming pool, and conference center. We will bring groups in during the week, and it will be a weekend destination for golfers in the D/FW and surrounding areas. I don't anticipate starting it until another five years or so."
How long have you raised llamas?
DM: "Three years. We now have 22. We have taken them to shows, and have a regional winner. They are more enjoyable to raise than cattle, and you don't end up having to kill them."
When you were building your course, did you ever feel like Ray Kinsella in "Field of Dreams," and hear the voice say, "If you build it, they will come."
DM: "Not really. I would add another word to that saying. If you build it right, they will come. If you just build it, they ain't gonna come. Quality is the Key."