On a cold windy Friday I embarked on a journey to find the Turtle Hill Golf Course, somewhere north of Denton and south of the Red River. After passing through the towns of Muenster and Lindsay, whose terrain is as flat as a ten day old Coke, I became somewhat dubious that the course named Turtle Hill was crafted among anything more that a couple of mole hills.
Just about that time, on FM 373, as I slowed to pass a young man taking his John Deere out for an afternoon drive, I caught a glimpse of what looked like a small hill. Little did I know what lay ahead.
Eight miles north of Muenster, TX lies a nifty eighteen hole semi-private GC named Turtle Hill, neatly layed out by architect, developer and bulldozer extraordinaire Dick Murphy. I was in for an afternoon of great surprise.
Turtle Hill Golf Course

While the amenities leave something to be desired (no driving range, limited food and beverage service) the course does not disappoint. I was privileged enough to get the grand tour of the course from Mr. Murphy himself, who is quite proud of his course, as he well should be.
For less than $25 weekdays and $30 weekends, the public can marvel at Murphy's personal masterpiece. Although Murphy claims his first few holes are somewhat "plain vanilla," to get the player warmed up, (don't forget there is no driving range) his second hole provides a good test early. The moderate length, dogleg right, par four requires an expertly placed fade off the tee and a blind second shot to an elevated green.
Although Turtle Hill has very few bunkers and water hazards that come into play, each hole requires precision and accuracy in order to keep the ball in play, and out of the oak trees.
The back nine begins with a short par four, that Murphy had to carve out of rock, and add 350 truckloads of top soil. Although this hole is very short, a misplaced tee shot left can spell disaster.
Turtle Hill Elevated View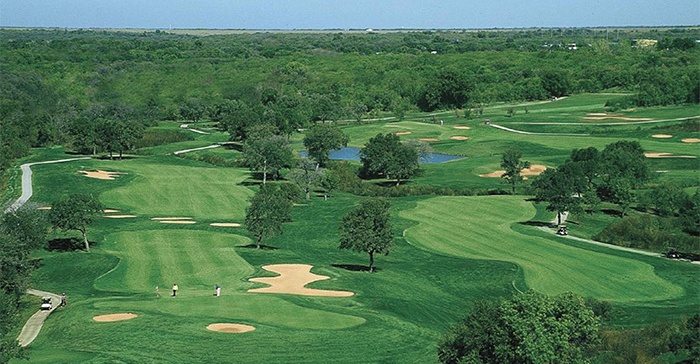 The next, the signature hole par three eleventh, is picture-perfect. A beautiful hole with a two-club drop in elevation, requires a perfect tee shot to avoid the protected natural areas that surround the green.
The twelfth hole (handicap 2) is Murphy's favorite. This par four requires an accurate tee shot that avoids the trees to set up an approach shot that must carry the two front bunkers, and land safely on the correct level of the two-tiered green.
The back nine continues with a good mixture of holes, that prove to be challenging to players of all skill levels. While the course is not long, it requires some good iron shots off the tees in order to facilitate approach shots. Most of the greens are large and have very well manicured bent grass, but I found them slow the day I played.
Turtle Hill Golf Course

Overall, Turtle Hill is a fun design to play, in a remote area of North Texas. With the plans Murphy has for the future … to build an exquisite driving range that will accompany a hotel and conference center complete with horseback riding stables at an adjacent ranch … Turtle Hill could easily become a hotspot near the Red River. I suggest you check it out before it does–oh–and don't take your cellular phone, you'll ruin the mystique.