Fantasy golf is one of the fastest growing activities in the fantasy sports industry. Popularized by fantasy football, fantasy sports has made its way virtually every sport you can imagine, including golf  There are many ways that fantasy golf is played, but the basics are that you assemble a roster of golfers who'll be playing in an event on a particular day or over the course of multiple days or tournaments.
 Although fantasy golf is trending, it isn't particularly new and the two largest providers of daily fantasy sports, DraftKings and FanDuel, both offer fantasy golf.  There are many different configurations in which fantasy golf is played. In this article, we'll focus on the salary cap structure because that's the format that both DraftKings and FanDuel prefer for all of their games. In this style, every player is assigned a monetary value, and you have to complete a roster within the confines of a salary cap.  You can play for free or with real money on the line.
Fantasy Golf at DraftKings
Draft Kings offers both daily games and weekly fantasy golf leagues but generally don't offer contests that extend over multiple events. Free games are available, and you can even win real money through them, but the bulk of the action requires an entry fee. Fees usually start at around $3, but you can also find contests with buy-ins that are in the hundreds or thousands of dollars. 
When you tap on the Golf button you'll see the game types available to play:

Classic Golf
In Classic games you'll assemble a roster of golfers participating in a tournament playing all rounds of a tournament.
Weekend Golf
Weekend golf games score based on rounds 3 and 4 of a tournament (typically Saturday and Sunday), not factoring in a golfer's placement at tournament finish.  
Match Play Golf
In Match Play games your golfers will score points based on the number of holes won or lost and the number of matches won or halved.
Cup Golf
Cup games are scored similar to Match Play games but you pick a team captain and 5 teammates.  
Cup Showdown Golf
Cup Showdown games feature match play scoring but for only one round of an event.
Selecting any one of these game types will display the events for each game type.  Each event's name and start time for each type of game are listed.  Tap on a golf event to view the fantasy contests available for each event.
Contest Types
For each event under a Game Type you'll see all of the available contests that can be played.  The total prize amount can Along the top you can filter the list by Contest Types.  The prize purse and top prize amount can be found in the Contest title. Total prize amounts can depend on the number of players and the buy-in amount.  The entry fees, number of spots available and prize/contest status can be seen in the Content list.  The green G next to the prize purse means the total prizes are guaranteed.  
Featured contests
These are the contests with the best and biggest total prizes.  You don't want to miss out on these events.  
Tournaments
Tournaments are huge contests featuring thousands of players and lots of prize money to be won.  Tournaments typically feature the biggest total prizes.  Some tournaments are combined or are qualifying tournaments for contests like the $1.55M Draft Kings Fantasy Golf World Championships where the winner will win $500,000!.
Head to Head
You can pit your lineup against someone's else's single line up in a Head to Head matchup.  If your roster scores more than your opponent's roster for one event then you win the head to head matchup and the prize.
50/50s & Double Ups
50/50 refers to contests paying out to players finishing in the top 50% of the field.  Double Ups refer to the first place prize doubling the contest entry fee.
Multipliers
Multipliers work similarly to Double Ups but the multiplier is typically larger. A 10x Multiplier game pays 10x the entry fee to the winner or players in designated positions.
Satellites & Qualifiers
Play your way into qualifying for massive prizes and a chance a huge payouts. Play in a Qualifier game to win your way into a second tournament. Some promotions feature a third tournament round featuring big prizes.
Contest details are available by tapping on the menu icon for each contest.  The entry fee, number of players / entrants currently bought in, prize amounts and game style are shown. Once you've selected your fantasy contest, you'll view available golfers to assemble your 6-golfer fantasy lineup.
Building Your Roster
All game styles at DraftKings have a $50,000 salary cap you'll use to create your team.  First, you'll first choose the contest you want to enter.  On the list of available contests you'll see the prize amounts, entry fees and number of spots available for players. 
Select your golfers to create your roster.  When you assemble your roster, you'll see a list of golfers expected to play in your event.  All of the available golfers have a designated "salary" number that you will use to build your roster with.  Your total roster "salary" must remain under the $50,000 salary cap.  As with any fantasy game, you'll want to make sure you pick players that could score the most points. Some things to evaluate are the number of cuts made, fantasy points per game and average points scored.  DraftKings provides player analysis by Rotowire along with player fantasy stats on the analysis page.
Scoring
Scoring details vary based on each game style.  Golfers score points based on a number of factors.  For most tournaments the Tournament Finish Scoring will apply.  Weekend and single round styles you'll want to pay attention to Per Hole Scoring and Streaks and Bonuses.  In Classic games golfers can score points based on per-hole scoring, with Double Eagles scoring the most and Bogeys and Double Bogeys costing points.  Streaks and Bonuses also score points and the golfer's finish in the tournament or event also scores points.  In Weekend Golf games, the scoring is the same as for Classic contests except tournament finishes are not scored.  Match Play, Cup Golf and Cup Showdown golf are scored based on the number of holes won or lost, matches won or lost and streaks.  An example of scoring for a Classic contest is shown below: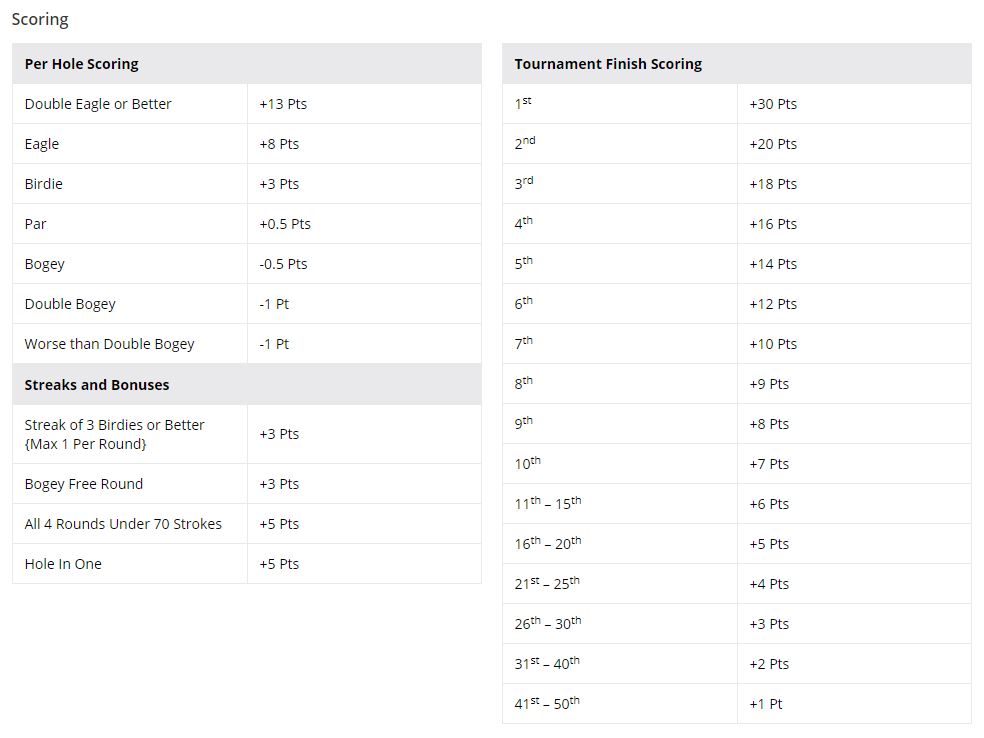 Fantasy Golf at FanDuel
FanDuel has recently added fantasy golf to its list of available games. Similar to DraftKings, you have different game styles, a salary cap and a team made up of 6 golfers.  Multiple contests are offered for each event, and different game styles are offered for all events.  
When you sign in, tap on the PGA button to view the different game styles available to play.  FanDuel offers Full Roster, Weekend rounds and Final Round games.  You'll also find Beginner PGA Contests and Intermediate PGA Contests game styles.  Beginner PGA Contests are low-stakes games that you can use to practice without going up against fantasy golf aces who have mastered the art of scouting their rosters.  Intermediate PGA contests up the stakes and feature larger prize pools but still do not allow experienced players to join and rake in winnings against inexperienced players.
Full Roster
This is the equivalent to Classic games at DraftKings.  Full Roster games cover all rounds of an entire tournament with a 6-golfer roster.
Weekend Golf
Weekend golf games score based on the Saturday and Sunday rounds of a tournament.  Leaderboard finish placement does not factor into the scoring.  
Single Round / Final Round Golf
As the title implies, Single Round Golf games count scores produced by your golfers over the course of the single round of an event.  Single round games are always on Sundays and cover the final round of a tournament event.
The number of available contests are shown next to each game style.  After you select your game style, you'll choose your event slate and then you'll be taken to a screen to choose your contest.
Contest Types
Once you select your event you'll see all the different types of contests that FanDuel offers for that event. Each type will display the number of contests available per type.
Featured Contests
Special contests, promotions, and Fan Duel recommended contests will be spotlighted in the Featured section  You can alternatively identify Featured Contests because they will be highlighted blue in the contest list.
 Tournaments
The Tournaments section will contain the big events with large numbers of players.  These contests will have the big prize pools with guaranteed prizes.  Prizes can range from qualifying tickets to the next round of a tournament to thousands of dollars.  Tournaments can range from a handful of spots to thousands of players.
Beat the Score
Beat the Score contests are tournaments where all you have to do is beat a target score.  If you beat the score, you'll win the same as all other players that also beat the target score.
Multipliers
Contests in the Multipliers section will double your money (2x) or more depending on the contest and your finishing place in the contest.  Some contests pay the winner and others pay top finishers.
Head to Heads
Pit your roster against an opponent's roster to win a head to head matchup and the prize!
3-100 Players
If you're not into the massive tournaments with thousands of players you can join a smaller tournament with player caps anywhere from three to one hundred players.
50/50s
Finish in the top 50% of finishers to win a prize.
Select your contest type to be shown a list of the available contests.  The contests can be filtered by the entry fee amount and the the entry limit.  Single Entry contests allow one lineup to be submitted while Multi-Entry contests allow players to submit more than one lineup per contest.  Multi-Entry contests are identified by the orange M icon in the contest list.  Single Entry contests do not have any icon.  Contests with guaranteed prize purses are identified by a blue G icon.  The total prize pool can be found in the contest title and if applicable, the first place prize is also found in the contest title.  If you want more details about an individual contest, tap on the event then tap on the Information icon at the top right of the event screen.  The next step is to create your lineup. If you don't have one saved, you will be taken to the roster screen to draft a roster for your contest.
Building Your Roster
After selecting your contest you'll need to draft your roster.  FanDuel has a $60,000 salary cap you'll work with to put together your roster.  The player list displays players expected to play in your selected event.  Their "salary", fantasy points per game (FPPG) and cuts made are listed as well.  To research your players tap on their name to be taken to the Player Details page where you can get news, stats and research info for each player provided by Rotowire.
Fundamentals of Fantasy Golf
A single fantasy golf contest typically covers an entire event, from Thursday to Sunday, which means that you'll have to deal with the cut when evaluating your roster.
Also, you may find occasionally find multi-tournament leagues. These contests will span multiple PGA tournaments, more akin to a fantasy football season. Multi-tournament leagues can be tougher because you have to find sustained performance. Choosing Spieth or McIlroy is pretty easy, but you won't be able to field a roster of top players. The big difference between the typical fantasy golf contest and multi-tournament play is that you must draft players that can perform consistently across multiple courses.
The scoring systems for both DraftKings and FanDuel are fairly straightforward. Golfers score points for individual holes and they also score for streaks and bonuses, such as 3 points for a three-birdie streak and 10 points for a hole in one as an example. Golfers also earn points based on how they finish in a particular round or on the overall leaderboard. Birdies are king in fantasy golf, and generally, winning players will distance themselves from the pack with birdies scored.
Strategy: Making the Cut
The cut is a concept that's unique to golf in the world of fantasy sports. More than half the field in a PGA event is eliminated on Friday. That means that you could pick a player who becomes disqualified for play and won't score any fantasy points for you over the weekend rounds of the tournament.  No other fantasy sport has that kind of possibility you have to consider when selecting your players so getting familiar with how often golfers make the cut is really important.  Note that the cut can also affect daily leagues because even if your contest takes place on Sunday, some leagues will require you to lock in your roster before Friday. So keep in mind that getting all of your golfers through the weekend is more important than finding that surprise performer.
Strategy: Course Matters
Choosing golfers for fantasy golf is a lot like betting horses. Not all PGA Tour courses are created equal, and most pros have courses where they shine and those where they don't. There are a lot of statistics available on modern golfers, and you can target pros that play well on a particular grass, in specific weather, at certain temperature ranges and so forth. It also helps to look at last year's event which can help identify courses that really favors strong drivers or some other characteristic. 
Strategy: Finding Value
Picking studs is easy. Finding value to round out your team isn't. A great tool for beginners are the Vegas odds. Perhaps no fantasy sport demonstrates bigger discrepancies between odds and player salary than golf. The bookmakers are very good at setting odds for a particular player based on the course, weather and other factors. As a novice, get a leg up by choosing golfers that Vegas favors but that DraftKings salary ratings do not.
Sound like fun? IT IS! We recommend trying it out at DraftKings. They offer free contests so you can get a feel for the game and not have to risk any real money. Click here to visit DraftKings!
And of course, fantasy football is by far the most popular fantasy sports game in the world. Sign up with the DraftKings promo code at https://americanbetting.org/draftkings-promo-code-bonus/ and receive a $200 bonus!
Player Reviews
Let us know how you like our post on How To Play Fantasy Golf!
How to Play Fantasy Golf
Average rating:
1 reviews
Sep 1, 2020
Nice breakdown
At first the menus were confusing and it was hard to keep track of what events, games and contests were but your post help break it down and made it easy to understand what each menu was showing me. Love FanDuel's practice games for noobs like me.